Staffordshire Hoard unseen items go on display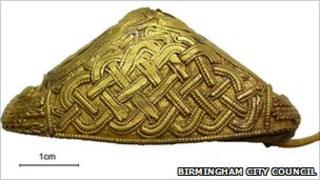 Previously unseen items from the Staffordshire Hoard have been on display for one day only in Birmingham.
The Museum Collections Centre Open Day ran until 17:00 BST in Dollman Street, Nechells. Admission was free.
The ten previously unseen items from the hoard, including gold buckles, hilt collars, a gold snake and garnets, were seen by the public.
Conservation experts were on hand to talk about the latest findings and the ongoing work on the hoard.
Speaking before the event, Councillor Martin Mullaney, cabinet member for leisure, sport and culture, said: "I am delighted that these items from the Staffordshire Hoard will be exclusively on show at this open day.
"I have no doubt that the display, combined with the Anglo-Saxon themed entertainments and the many delights of the Museum Collections Centre will combine to make a fascinating day out for local people of all ages."
More than 3,500 Anglo-Saxon artefacts were discovered by a metal detector enthusiast in a farmer's field in Staffordshire in July 2009.