Birmingham residents offered Nectar points to recycle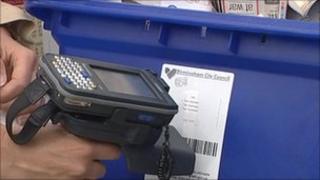 Birmingham residents will be encouraged to recycle by being awarded loyalty card points to spend on shopping and services.
The pilot scheme will be tried out on 4,500 homes in Bournville and Erdington.
From September, barcode stickers on their blue recycling boxes will be scanned each time a collection is made.
Each collection will earn the resident 25 Nectar points which can be redeemed for goods or services.
Tim Huxtable, cabinet member for transport, environment and regeneration, said: "Increasing public participation in recycling is a key objective for both the city council and future of the city as a whole."
He added: "This is a win-win project for all, as the more people that recycle, not only will they be helping to save the environment but the more opportunity they will get to reward themselves."
The trial will run from 2 September to next March.
Birmingham City Council said all eligible residents would be getting information packs and their barcode stickers in the post.
The council said it hoped the scheme could be rolled out to the rest of the city if it was successful.