The Midlands at the Edinburgh Fringe - surviving the arts cuts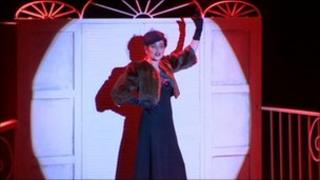 The Edinburgh Fringe Festival has become a vital showcase in the bid to overcome budget cuts, West Midlands arts groups say.
Back in March, 23 organisations in the region lost all their Arts Council England funding - with many more seeing cuts in their grants. The arts council itself had its budget cut by nearly 30%.
So, the Scottish capital is providing a important stage for performers desperate to be noticed.
Foursight Theatre in Wolverhampton used to be regularly funded but from April 2012 it will no longer be part of the National Portfolio of the Arts Council England.
Support network
So this year is the final curtain call for the company at the Edinburgh Fringe Festival, with its production of Bette and Joan: The Final Curtain.
General manager Tom Wildish said: "We got about £160,000 from the Arts Council and so unfortunately come May 2012 we are going to be having to wind up the company."
The Arts Council does not provide funding for companies to go to Edinburgh but those who have had grants often accommodate the costs from an annual budget.
Alison Gagan, theatre relationship manager for Arts Council England, said she had never seen as many West Midlands artists at the Fringe Festival as this year.
So much so that for the first time this year a network has been set up for performers from the region.
It been born out of the Mid-Point networking group in Birmingham and artists who have headed up to Scotland are also supporting each other's shows on Twitter.
'Great place'
Birmingham's Dan Foxsmith, who has written the Observatory, being performed by Snuff Box Theatre Company, said: "It's been really useful because you kind of get like minded people from the same area."
Bryony Shanahan, also from Snuff Box, said: "It's really nice knowing there's just the support system.
"You can kind of come in and see each others shows and it's nice to see so many people from the West Midlands doing their stuff up here as well.'
The Edinburgh Fringe is the world's largest Arts Festival. It has attracted over 21,000 performers this year - all this set in the context of cuts to arts funding.
The government has said it wants philanthropists to fill the void as well as lottery funding, as outlined in a response to the Select Committee Report on Funding of Arts and Heritage in June 2011.
But that has not stopped first timers from coming to the Fringe.
Amongst them are productions such as Me, Myself and Mrs Gibbs. It is a self-funded project produced by Pippa Frith and performed by Francesca Millican-Slater. They have spent £3,500 of their own money to bring the production from Birmingham to Edinburgh.
Ms Frith said: ''For us this isn't really about making money. It is about raising Francesca's profile as an artist and this particular show we really want to take it on a national tour.
"It is a great place to get promoters to see your work."
So this year the Edinburgh Fringe is not just a celebration of the arts but also a trading place for companies.
Deals clinched at the festival could help ensure the arts survive the squeeze on spending in the creative industries.