West Midlands Police seek riot bravery nominees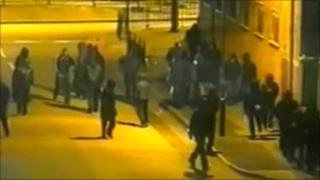 A police force is looking for nominations for members of the public who should be recognised for acts of bravery during the recent riots.
West Midlands Police Chief Constable Chris Sims said he was keen to recognise the compassion displayed by some people during the disorder.
He said the force wants to recognise the efforts of residents who helped tackle criminality and restore calm.
It comes as the force revealed 29 officers were injured on duty.
A force spokesman said all of the officers injured during the riots were recovering well.
He said 16 were injured as a result of being struck by missiles or broken glass, 11 officers were assaulted by offenders or people in custody and two were hit by vehicles.
The force has already asked for nominations internally to reward "acts of bravery, selflessness and support" displayed by officers and staff during the two day's of disturbances.
But they are also keen to recognise ordinary people who helped out.
Shops and businesses were raided across the West Midlands on 8 and 9 August.
The disturbances saw roads closed and the public warned to keep away from town and city centres including Birmingham, West Bromwich and Wolverhampton.
Mr Sims said: "We have heard a lot of stories where members of the public rallied round to help officers or their own community - very much pulling together at a time of need.
"I would like to recognise these acts and offer my thanks and the thanks of the organisation."
Details of where to send nominations are available through the force website.
People are asked to provide as much detail as possible about the individual, the circumstances and the location, as well as a brief description of the actions they believe deserve recognition.