Birmingham riots: Jamelia tried to dissuade looters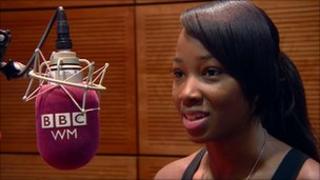 Birmingham singer Jamelia has said she made a plea to stop people going into the city and looting during the recent disorder.
The MOBO award winner, who grew up in Handsworth and Hockley, said she received messages during the troubles on Blackberry Messenger telling her about the best places to loot.
She said she sent a message herself, telling would-be looters it was "ridiculous".
She said: "I told them, whoever is thinking of doing this, this is ridiculous.
"Stop and think about what you are doing.
"You are ransacking local businesses, people who are helping to keep your own communities on their feet, and you are going to go there and loot?"
Blackberry Messenger - a service which allows users to send free-of-charge real-time messages - is one of several social networking sites which allowed people to organise their movements during the riots across England at the beginning of the month.
The system allows users to join each other's contacts and messages can be distributed to large groups.
The messages she received on her phone told her of suggested times and places to meet up so it would be easier for gangs to get into shops and raid them.
Riots 'heartbreaking'
Now living with her two young children in Barnt Green, Jamelia, 30, told BBC WM she found herself "heartbroken" at the spread of the riots.
"It was upsetting.
"I grew up in an inner-city and when I was younger I never would have thought it was ok to do something like that.
"An opportunity arose to get free gear and they took it."
The troubles in Birmingham started on August 8, a few days after they started in London.
Shops were looted, some cars burnt out and three men were killed as they tried to protect properties in Winson Green.