Men break into Birmingham jewellers in raid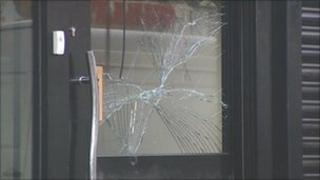 Three men have smashed their way into a jewellers in a robbery in Birmingham.
The raid at Prem Jewellers, Handsworth, was cut short when a security system set off a smoke device and by a witness who approached the men and hit one of them with a shovel, police said.
Windows were shattered in Soho Road at about 16:45 BST on Friday and a number of jewellery trays were grabbed.
Police said they understood the raiders made off in a dark grey Mercedes estate car with blacked-out windows.
Det Sgt Glen Marriott said: "There were rumours that the men had thrown a smoke bomb into the premises but in fact it was part of the store's security system.
"The men may well have made off with more had it not been for the smoke and the bravery of one man who tried to fend them off with a shovel."