Walsall's Overstrand Bridge being demolished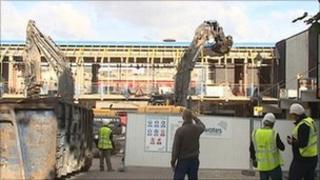 Demolition work has been taking place at the Overstrand Bridge in Walsall.
A retail space is being created across three new units at the Old Square Shopping Centre as part of a regeneration scheme in the town.
There will be a two-storey store, a four-storey building, including commercial space, and a third retail unit inside the shopping centre.
The main demolition work at the bridge was taking place on Sunday after a three-week project began on 15 August.