Ed Doolan cuts back weekday shows for new Sunday slot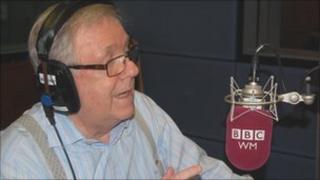 Veteran BBC WM presenter Ed Doolan is cutting back his weekday radio shows and starting a new Sunday programme.
The broadcaster is dropping his Monday to Thursday lunchtime shows but will still be on air on Fridays.
Ed, who is 70, said: "I'm not retiring, resigning or calling it a day but I simply cannot continue the current work schedule."
He starts his new Sunday programme on 11 September, almost 29 years to the day that he joined the radio station.
Ed said he was looking forward to getting "stuck into" the new show.
On air from 09:00 to 12:00, it will be a mix of news, consumer items and nostalgia.
Extensive archives
The consumer champion said it would include a look back at the week's big news stories and there would be phone-ins with different experts on hand to answer listeners' questions.
He will be also be delving into his extensive archives to revisit significant stories and interviews.
Historian and BBC WM presenter Professor Carl Chinn will join Ed between 11am and 12pm to reflect on those stories before beginning his own show from 12pm to 2pm.
Ed Doolan's first new Sunday show will mark the 10th anniversary of 9/11.
The consumer champion will also present a Friday programme between 12pm and 2pm, with Adrian Goldberg taking over the lunchtime chair every Monday to Thursday from 5 September.