Birmingham Assay Office to keep hallmarking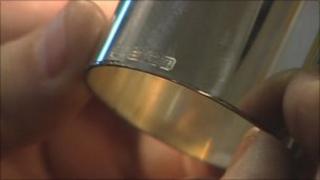 The government is to preserve hallmarking after nearly 6,000 people registered their support.
The decision has been welcomed by the Birmingham Assay Office which has been handling items from all over the world for more than 200 years.
The decision is one of the first results from the "Red Tape Challenge".
The challenge is part of the government's "Plan for Growth" that focuses on reducing unnecessary red tape to help support businesses.
People are able to register their thoughts on how red tape could be reduced and what regulations should remain through the The Red Tape Challenge website.
Birmingham has a long history of jewellery making with silversmiths such as Matthew Boulton making their name in the city.
'Too much paperwork'
To allow the trade to prosper Birmingham was granted permission to have an assay office of its own through the Hallmarking Act 1773.
Birmingham Assay Office currently handles over 12 million articles per year.
Minister for business and enterprise Mark Prisk said: "The aim (of the Red Tape Challenge was) to get rid of the (rules) we don't need and make the ones we do simpler to put into practice.
"At the same time though, we are preserving good regulation, such as the hallmarking regime, for which there was strong support."
Some jewellers say the consultation has encouraged discussion about potential changes that could be made to the industry.
Harriet Kelsall, managing director of Harriet Kelsall Jewellery Design, which has branches in Hertfordshire and Cambridgeshire, said she thought the hallmarking system could be quicker.
"While I feel strongly that the service shouldn't be scrapped, I feel many aspects of the actual methods used by the Assay Office represent too much paperwork and red tape for businesses," she said.
But Michael Allchin, chief executive of The Birmingham Assay Office, said standards were the priority.
He said: "The Assay Offices have to legally stand behind their hallmark.
"Any attempt to water down the regulations or their control would mean that the Assay Offices wouldn't be in a position to guarantee their hallmark."