Birmingham riots 'caught police on the hop'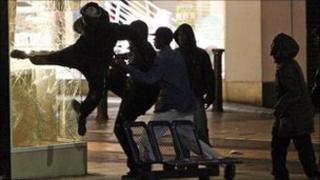 Police in Birmingham failed to act quickly enough to the riots, according to a report by community leaders.
The document was put together based on feedback from a meeting looking at the public disorder in the north-east of the city last month.
It will now be presented to the Home Affairs Select Committee inquiry into policing large-scale disorder.
West Midlands Police said it would be inappropriate to comment before it too has presented its findings.
In a statement the force said: "West Midlands Police have been carrying out a thorough review of the response to the incident which will be presented to the police authority on Thursday (8 August) and the Home Affairs Select Committee on Friday (9 August)."
The meeting on 22 August in Birmingham invited politicians, youth workers, traders and members of various community groups to voice their concerns about possible causes and consequences of the Birmingham riots.
'Slow response time'
Their views were then collected by Khalid Mahmood, Labour MP for Perry Barr, who drew up the report which particularly focuses on the Lozells, Handsworth and Birchfield areas of the city.
The report states: "The riots caught police on the hop. There appeared to be either a lack of awareness or a lack of readiness - or even both.
"There was no presence of police in some areas despite warnings via social media and a general view of a slow response time.
"Communities felt that they had no option but to protect their properties, particularly those with homes above shops."
The report concludes that police needed to act quickly, in particular by being present before the incident that resulted in the deaths of Haroon Jahan and brothers Shahzad Ali and Abdul Musavir.
The three men died after being hit by a car on Dudley Road in Winson Green in the early hours of 10 August.
So far six men have been charged by police investigating the deaths.
Crime and Security Minister James Brokenshire said: "Are there lessons to be learnt on deployment, on police tactics?
"I think yes there are and that's why the home secretary has asked Her Majesty's Inspectorate of Constabulary to look at those factors so that lessons can be learnt."
BBC Radio 4's Today programme recorded a special event at Birmingham Town Hall between 19:00 and 22:00 BST to discuss the riots.
It looked at what caused the rioting in English towns and cities this summer.