Thousands of performers head for Birmingham's ArtsFest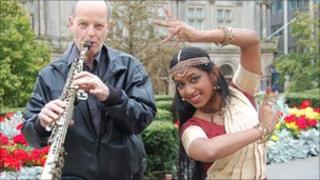 More than 3,000 performers are set to take part in Birmingham's annual arts festival.
ArtsFest is taking place on Saturday and Sunday. Last year it attracted about 250,000 people.
Now in its 14th year, there will be 600 events at various venues in the city ranging from outside stages to civic buildings.
There will be music, theatre, street art, dance and comedy as well as workshops and exhibitions.
'Economic boost'
Councillor Martin Mullaney, Birmingham City Council's cabinet member for leisure, sport and culture, said the festival put the city on the "national stage".
He added: "We get visitors who come into Birmingham who then spend money in our shops, in our restaurants and cafes and stay overnight in a hotel, so it's a big economic boost.
"For our residents of Birmingham, it shows all the fantastic art organisations in our city.
"Birmingham is a dynamic city with an awful lot going on and it brings it all together in one weekend."
Musician Jonathan Middle, whose band Second City Sax will be taking part in ArtsFest for the third time, said: "It's always very enjoyable. It gives a focus for musicians and artists, dancers, everybody, that they have something that they can look forward to and something they can plan for.
"I think it introduces to people the wide variety of the arts and music that they can participate in."