Riot police to change tactics after Birmingham looting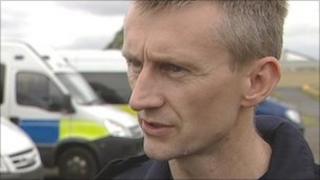 New tactics are being developed by West Midlands Police to deal with public disorder after the emergence of large-scale looting in the Birmingham riots.
Insp John Pickard, the force's head of disorder training, said officers had never come across looting on the scale of that witnessed on 8 and 9 August.
He said officers were now undergoing riot training that included more pro-active elements.
This includes arrest training and the wider use of Taser guns.
In a report for the Home Affairs Select Committee, which is looking into the riots, the force was criticised for failing to react quickly enough to deal with the situation.
Insp Pickard said: "We are going to reflect on the feedback we have had from the riots.
"We had big incidents of criminality, the looting of the shops etc and therefore within our training we are going to reflect the different types of rioting.
"We are going to do training around arrest teams, we are going to consider the use of Taser more pro-actively within riotous situations."
Tasers used by the force are designed to grip onto the target's clothing and deliver 5,000 volts of charge directly into their muscles, causing a sensation up to 1,000 times more powerful than cramp for five seconds, temporarily incapacitating them.
Insp Pickard said the tactics employed last month were nationally recognised tactics, but new riot tactics would have to strike a delicate balance between restoring order and refraining from using excessive force.
He said: "It's always very much a thin line, the balance of getting it right for the people who are protesting and getting it right for members of the public who are watching and viewing your actions."
One of the officers who came under fire during the Birmingham riots said he was frustrated that police were unable to take more action to disperse crowds.
PC Andrew Bradley was part of a running line of officers who ran towards the looters and rioters in Aston.
He said when they heard gunfire, they fell back and took cover behind their vehicles as they were not wearing bullet-proof clothing.
'Frustrating at times'
PC Bradley, who was not injured in the incident, said: "It was an environment that none of us had experience of.
"Nobody expected on the tour of duty to come across anything like that."
He added: "It was frustrating at times as there were times you wished you could make progress to disperse, but then you had the danger of going past open junctions.
"Tactically we were advised not to do that because if that was a tactic they had employed, they could come round us and overpower us."
Previous police riot training focussed on disorder at football matches and people throwing bricks, rather than being shot at.
The Home Secretary Theresa May will field questions later from MPs about the police responses to the disorder and look at what lessons can be learned.