'Opportunities missed' in Alina Sarag's TB death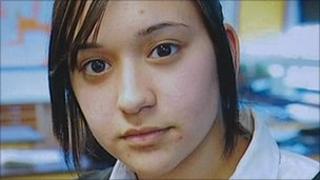 Opportunities were missed to diagnose a 15-year-old girl who died of tuberculosis (TB), the BBC can reveal.
Alina Sarag, a pupil at Golden Hillock School in Sparkhill, Birmingham, died on 6 January.
A simple phlegm test which could have shown she had tuberculosis was never carried out at one West Midlands hospital, a clinical review of the case revealed.
A chest X-ray could also have indicated TB but the condition was not picked up.
The review, by Heart of Birmingham Teaching Primary Care Trust, concluded there must be a Birmingham-wide review of all standard procedures for TB after no-one considered the possibility in Alina's case, a high-risk patient.
Alina had been treated for TB and was seen at Birmingham Chest Clinic, in October 2009.
She was treated with antibiotics but the clinic failed to follow up her treatment.
After a visit to Pakistan in July 2010 she was sick upon her return.
Her mother, Farhat Mahmoode, said: "We took her to every hospital.
"If Heartlands Hospital didn't pick up something, maybe City Hospital.
"We took her to the Children's Hospital.
"We thought maybe another doctor would find out what was wrong, but we were failed at every turn."
After doctors at Heartland and City hospitals did not detect TB, Alina was admitted to Sandwell Hospital where she stayed for five days.
TB was picked up but no sputum test was carried out and a chest X-ray was thought to have found a chest infection.
She later saw a clinical psychologist at Birmingham Children's Hospital but was in such extreme pain that the psychologist could not complete the assessment.
A second appointment was arranged for 6 January, the day of her death.
The medical director of Sandwell and West Birmingham Hospitals, Donal O'Donahue, accepted there were mistakes with her care, but denied there was any need to change the systems.
'Clinicians devastated'
Mr O'Donahue said TB was very difficult to diagnose and when the reader of the chest X-ray decided it was unlikely to be TB, the phlegm test was cancelled.
He said not diagnosing TB from the X-ray was reasonable.
"All the clinicians involved in Alina's case were devastated that we had missed an opportunity to diagnose TB.
"Other than the need to bear TB in mind, there is nothing in our systems that we felt that we needed to improve on the basis of Alina's care."
The review decided the chest clinic should have followed up her treatment and it should have ordered X-rays to ensure her treatment had been successful.
Heart of England NHS Foundation Trust (HEFT), which runs the chest clinic, said it had put an action plan in place.
It said: "HEFT is the centre of excellence for infectious diseases in the West Midlands and saw and treated over 350 patients last year with TB.
"We have completed an internal investigation into the care provided to Alina Sarag by Birmingham Chest Clinic and an action plan has been developed with our clinicians."
The review team has recommended training to increase awareness about TB for all Birmingham GPs and other clinicians.