ArtsFest: Thousands attend first day in Birmingham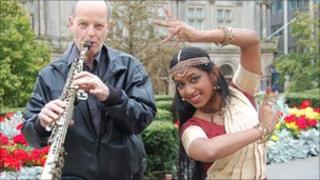 More than 100,000 people visited Birmingham's annual arts festival on its opening day.
ArtsFest began on Saturday with free events around the city giving people the chance to enjoy music, theatre, dance and storytelling.
Bad weather meant the Birmingham Royal Ballet had to cancel its performance in Centenary Square.
But the majority of the entertainment went ahead as planned with more events set to take place on Sunday.
The first ever FlowerFest was also held in the city centre gardens.
Something for everyone
Floral societies displayed plants while gardening experts were on hand for question and answer sessions.
Councillor Martin Mullaney, cabinet member for leisure, sport and culture, said: "The first day of ArtsFest has been a delight, with so many events and activities.
"There really has been something to suit everyone's tastes, no matter what their age or cultural background."
Last year the event attracted about 250,000 people.
Now in its 14th year, organisers Birmingham City Council said there would be 600 events at various venues in the city ranging from outside stages to civic buildings.