Birmingham ArtsFest 'attracts more than 200,000'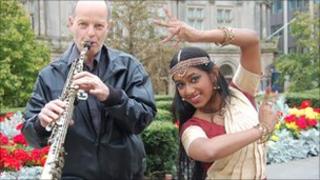 More than 200,000 people attended Birmingham ArtsFest events in the city over the weekend, organisers have said.
Free initiatives at the 14th ArtsFest included giving people the chance to enjoy music, theatre, dance and storytelling.
ArtsFest organisers said more than 10,000 attended Sunday's Centenary Square concert featuring Worcestershire band The Guillemots.
The first FlowerFest showcased the best from floral societies and allotments.
Dancers performing
A total of 4,500 visitors attended and gardening experts were on hand for question and answer sessions.
Other attractions included dancers performing in a Victoria Square marquee as part of the Cultural Olympiad, which is part of the lead-up to the London 2012 Games.
A concert in Centenary Square attended by more than 10,000 people, featuring the City of Birmingham Symphony Orchestra and Birmingham Opera Company, was among Saturday's highlights.
Tours of work in progress at the new Library of Birmingham, which is set to open in 2013, were also available.
ArtsFest was organised by Birmingham City Council, with support from sponsors, partners, arts organisations and volunteers.
Cabinet member for leisure, sport and culture, councillor Martin Mullaney, described this year's event as "an amazing success", attracting "huge crowds of both local people and visitors to the city".
He added: "The event has brought together major artists including the City of Birmingham Symphony Orchestra and the Birmingham Opera company to up-and-coming bands and independent theatre groups."