West Midlands Libyan ex-pat joined Tripoli rebels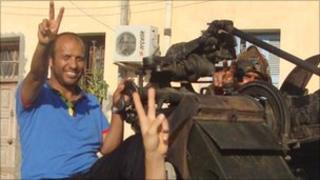 A Libyan ex-pat hospital worker joined rebel forces after he went to Tripoli to help his family and ended up manning an armed checkpoint.
Ali Bahron, 46, from Sutton Coldfield, said he and two friends left his home in August with medical supplies, then drove and sailed to his homeland.
He said he arrived before the city fell to rebels and later drove in a convoy and entered Gaddafi's compound.
Mr Bahron came to the UK in 1983 and works in IT for the NHS.
In a Hardtalk interview for BBC WM, the father-of-two said he and his friends sailed to Calais then got a ferry to Genoa in Italy, then a 24-hour ferry to Tunisia from where they crossed the border into Libya.
'Huge numbers'
They planned to handover the supplies and vehicles to friends by the border but Mr Bahron felt it was safe enough for him to stay on in the country at that time and travel to Nafusa Mountains, close to some of his relatives.
"It was a risky thing to do..." he said.
"I felt I could go there as well - they built a picture that it's safe to go."
The friend he stayed with in Nafusa Mountain had been living in Birmingham before going to Libya and joining the rebels several months before.
"They had different arms from AK47 to bigger guns... these guns had been captured from Gaddafi's troops," he said.
While he stayed, the situation in Tripoli was escalating making it harder for Mr Bahron to meet his family.
By the end of August, the rebels said they were in almost complete control of the city.
Mr Bahron said he joined a convoy that was heading into the city.
"We were greeted by huge numbers of people at every checkpoint," he said.
"There was a lot of confusion from me because I never heard guns or stuff like that, and suddenly to be in the middle of machine guns and snipers was scary.
"It was getting dangerous. We were part of the rebels at the back so the rebels kept us away from the dangerous areas.
"One of my neighbours was shot dead so the next day we had to bury him.
"I never really thought of it as life and death. I'm just here to witness the new era."
'Point and shoot'
Mr Bahron said after the battle for Tripoli, the lack of water and electricity brought everyone together.
On the third day of the rebels winning control, he said he was part of the groups that entered Gaddafi's compound, exploring the bunkers and even finding a small operating theatre in the grounds.
But in the following few days after fighting Gaddafi's troops, the rebels wanted to set up checkpoints to keep any more out.
"At my house, my brother had two or three guns so they rotated it around, a 24-hour checkpoint and you had to do eight hours or something.
"You had a gun... basically searching cars. I hope that I wouldn't fight but you probably have to.
"I can only point and shoot and I don't think I'd do a good job."
Mr Bahron returned to the West Midlands earlier this month but said he planned to go back and help out with the education and health systems.