Matthew Pearson jailed for 'starving' parent's pets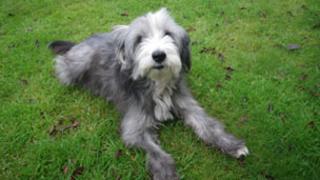 A man has been jailed for 20 weeks for allowing five of his parents' six pets to starve to death while they were away.
Matthew Pearson, 28, from Wolverhampton, was sent money by his parents to pay for food for their pets and monthly bills.
RSPCA officers said they found the remains of a dog, two cats, a rat and a hamster at the house in Bilston.
Pearson admitted 34 animal welfare offences at an earlier hearing.
He was sentenced at the city's magistrates' court on Tuesday.
A spokesman for the RSPCA said Pearson, of Graisley Lane, had been left in charge of his parent's animals at property in Portway Road in January when they went to visit family in Cornwall.
'Shocked by conditions'
RSPCA inspectors were called to the house in March after a complaint.
Insp Jayne Bashford said once inside they were confronted with a "truly horrific and disturbing" scene.
One dog, called Buster, was found dead in his bed and officers found the partial remains of the cats and the bodies of an emaciated rat and hamster in separate cages.
The surviving dog, Beethoven, had survived by eating the dead cats.
The house was littered with dog and cat urine and faeces, the spokesman added.
A pathologist confirmed that the animals died as a result of cardio-respiratory failure secondary to chronic malnutrition and emaciation.
Speaking after Pearson was sentenced, Insp Bashford said: "I will never, ever forget the scene upon entering this property.
"All individuals involved, including experienced police officers, were visibly shocked by the conditions and horrific sight of multiple dead animals.
"Particularly disturbing to me were the scratch marks on the rear of the kitchen door where Buster had desperately tried to escape before he was found dead in his bed."
"To die of starvation is an appalling, painful way for any animal to die and their suffering was so needless and preventable if only help had been sought."
Beethoven has now recovered and has since been rehomed, the charity said.