West Midlands Police chief denies officers 'were watching'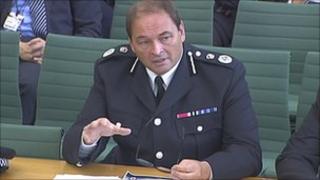 The Chief Constable of West Midlands Police has denied officers could have done more to prevent the deaths of three men during the Birmingham riots.
Chris Sims rejected criticism that officers were absent from too many streets and shopkeepers were left to defend their stores.
Giving evidence to a Home Affairs Select Committee, Mr Sims said officers arrested hundreds of people.
Three men were hit by a car as they protected shops and homes in August.
'Police not watching'
Haroon Jahan, 21, and brothers Shazad Ali, 30, and Abdul Musavir, 31 were killed on Dudley Road in the Winson Green area.
Five people have been charged over their murders.
Referring to the deaths, panel member Keith Vaz, the MP for Leicester East, said evidence the committee had received claimed that police were "watching" and not taking action.
But Mr Sims said he disputed that.
"By the end of the first evening, we'd arrested 130 people and by the end of the second evening, that had more than doubled," he said.
"Those arrests don't happen by police watching."
More than 600 people have been arrested in the West Midlands so far with more likely to come.
The riots are estimated to have cost the force between £10 and 12m in policing, also damage to vehicles and a police building which have not yet been factored in.
Mr Sims said he was still awaiting clarification on how the government would recompense his force.