Agency acts over illegal immigrant in Dudley hospital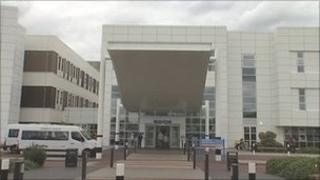 The UK Border Agency says it hopes to arrange for an illegal immigrant who has spent a year in hospital to return to Pakistan as soon as possible.
The man, who has been at Russells Hall Hospital in Dudley, West Midlands, has cost the NHS more than £100,000.
He was well enough to leave hospital in August 2010, but needed nursing care and had nowhere to go.
The Dudley Group of Hospitals NHS Foundation Trust said "ongoing nursing care" was required.
'Not tolerate abuse'
A UK Border Agency spokeswoman said: "The NHS is a national, not an international, health service.
"We will not tolerate its abuse which is why arrangements for removal have been made in this complex case."
Trust chief executive Paula Clark said: "Our patient needed acute hospital care when admitted into hospital with complex medical conditions.
"[The patient] was medically fit to be discharged in August 2010 but required ongoing nursing care."
Stourbridge Conservative MP Margot James raised the issue in the Commons.
She said: "I'm not arguing that an illegal immigrant shouldn't have medical care if they have a crisis.
"But when that care is finished and they're ready for discharge, then they should be sent back to the country of their residence, because they have no entitlement to remain."