Two paralympians open sensory gym in Herefordshire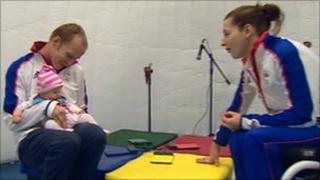 A "sensory and music" gym for people with disabilities has opened in Herefordshire.
Aspire, the charity behind the venture, said it gave disabled people of all ages the chance to get involved in exercise and sporting activities.
Paralympics gold medal swimmers Sascha Kindred and Nyree Lewis brought their newborn daughter along to open the gym in Venns Lane. Hereford.
The gym uses sounds, lights and music and pictures.
The facilities cost over £30,000, raised through grants and fundraising by the charity.
Nyree Lewis said the gym was a valuable experience.
"It gets them out and gets them to enjoy things other than their school or their home, whatever," she said.
"You can see their faces, they just love it."