Walsall nature reserve water level sees call to experts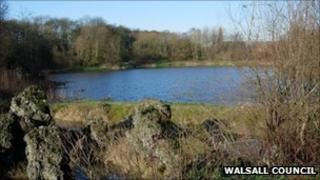 Experts are being called in to help solve the mystery of a drop in water levels at a Black Country beauty spot.
Walsall Council said levels at the pool in Moorcroft Wood Local Nature Reserve were at the "lowest they have been in around 20 years".
It has been working with the Environment Agency to come up with plans in case fish are put at risk.
The council is now looking to bring in an expert in water monitoring and management to investigate.
Walsall Council said its countryside rangers had been "concerned for some time" about the water levels at the pool in Moxley.
It said they have been working with the Environment Agency and other organisations, such as the Wildlife Trust, to try and find out what was causing the levels to drop.
Councillor Anthony Harris, cabinet member for leisure and culture, said: "They are seeking out expert advice to help identify the cause and have also been working closely with the Environment Agency on contingency plans in case the water levels fall to a dangerously low level, placing the fish at risk.
"The pool is being closely monitored while this professional input is sought."