Birmingham's market traders march over wholesale uncertainty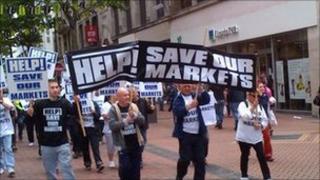 Stallholders from Birmingham's markets have marched through the city centre in protest over the uncertainty of relocation plans.
A proposal to move it to a site in Witton fell through and the council has said it is looking for other sites.
Traders from the city's Bullring markets joined in the march.
Carol Burns, from the Bullring Open Markets committee, said about 70% of traders used the wholesale markets for their fresh produce.
"Without access to that market they will have to travel to Bristol, Manchester or London which will increase their costs and increase the costs to the public," she said.
The council has said the market's existing building is more than 35 years old, in need of refurbishment and no longer fit-for-purpose.
It insists it is not planning on closing the market as some traders have feared.