Edgbaston cricket ground misses out on 2013 Ashes Test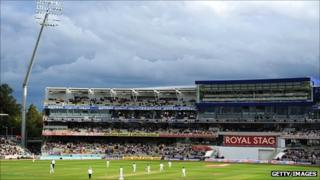 The boss of Warwickshire County Cricket Club has said he is disappointed Edgbaston has not been chosen to host an Ashes Test match in 2013.
The Birmingham venue saw a £32m new stand open earlier this year, making it England's second largest cricket ground, with a capacity of 25,000.
The club said the revamp was necessary to continue hosting England games.
But Edgbaston will host a Test match against Australia in 2015 and One Day Internationals in 2012 and 2013.
Chief executive Colin Povey said the ground was already due to host a Test match against the West Indies and a One Day International against Australia next summer, and welcomed the news the ground would host a 2015 Ashes Test.
"Today's news adds substantially to the strength of our future fixtures," he said.
"Whilst we are disappointed not to have been awarded an Ashes Test match in 2013 we should remember the Aussies will play ODIs at Edgbaston in 2012 and 2013.
"In addition, we can now look forward to an Ashes Test Match in 2015".
He said Edgbaston had also been granted an extra 2012 fixture with a Twenty20 international between England and South Africa.
Trent Bridge in Nottingham was chosen to host Ashes fixtures in both 2013 and 2015, despite having 7,500 fewer seats than Edgbaston.