Ex admits schoolgirl stab attack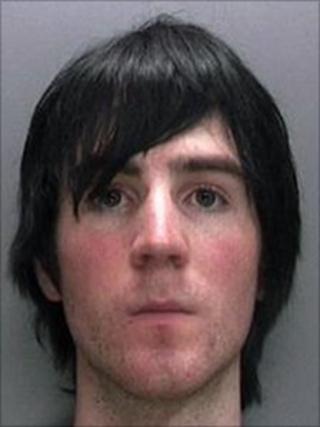 A man who repeatedly stabbed his 14-year-old ex-girlfriend on her way to school has been ordered to serve 13 years in a young offenders institution.
Samuel Gayzer-Tomlinson, 18, admitted stabbing Chloe West 11 times as she walked to Ridgewood High School, in Stourbridge, West Midlands, on 1 April.
Gayzer-Tomlinson, of Turls Hill Road in Sedgley, admitted attempted murder and wounding at Wolverhampton Crown Court.
Chloe was airlifted to hospital with neck, face and upper body injuries.
She has since undergone plastic surgery.
'Justice done'
Gayzer-Tomlinson was told he must serve a minimum of six-and-a-half years before he could be considered for release on licence.
In a statement read following the sentencing on Friday, the family said: "We have had this hanging over our heads since 1 April when Chloe was attacked.
"We are in no doubt that Chloe would have been killed but for the brave intervention of [fellow pupils] Ben, Sonia, [and teachers] Mr Simmons and Mr Ramsey, who prevented her attack continuing.
"It is hard to come to terms with the thought of someone wishing to kill our daughter, even harder to know this attack was premeditated."
The family said sentencing had brought them closure and added: "We feel justice has been done, we can now move on to enjoy life and watch Chloe grow into a young woman who is full of life."
Wolverhampton Crown Court heard Gayzer-Tomlinson had become obsessed with Chloe and was devastated when their relationship ended weeks before.
Sarah-Jayne Buckingham, defending, said the 18-year-old had reported having suicidal thoughts and was "hearing voices" after the arrest.
"He is not a monster. He is a young man who plainly had mental health problems," she added.
Dyed hair
Prosecutor Hugh O'Brien-Quinn said the defendant could not cope with the rejection and began to plot his revenge, which included an elaborate scheme to set up two false Facebook accounts and pose as a horse riding enthusiast to re-establish contact with Chloe.
Gayzer-Tomlinson dyed his hair a dark black/blue colour and drove up behind her in Park Road West, where he leapt out and confronted her on her way to school on 1 April, jurors heard.
When arrested by police he told them: "Yeah I know I did it. I did it because she left me."
Fellow pupil Ben Hudson, one of those who tried to wrestle the attacker away from Chloe, received several minor injuries to his hands as a result.
West Midlands Police Supt Stuart Johnson praised the bravery of all those who had intervened to help Chloe by restraining her attacker.