Babies' drug resistant bug in Dudley 'went unreported'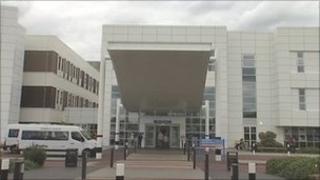 Four babies picked-up a drug-resistant bug in a neonatal ward but the outbreak was not reported at the time, the Health Protection Agency has said.
One of the newborns at Russells Hall Hospital in Dudley, West Midlands, developed an infection but was treated with antibiotics.
The babies picked up the ESBL enterobacter bug in January and February of this year.
The hospital trust said all babies had been looked after appropriately.
A serious incident was declared by the hospital on 30 March, after the babies had left.
Dudley Group of Hospitals NHS Foundation Trust said none of the babies had a prolonged stay in hospital.
It said there was very little national guidance on screening for organisms other than MRSA on neonatal units.
The Health Protection Agency has raised concerns there was a delay in declaring an outbreak of the bug to both NHS Dudley, formerly Dudley Primary Care Trust, and the West Midlands Strategic Health Authority (SHA).
'Untoward incident'
NHS Dudley's infection team met with the hospital trust several times during April and May and was told the delay in reporting it was caused by the hospital thinking the cases were not linked.
The incident was closed in June after a root cause analysis of each baby's care.
The SHA said the Health Protection Agency had spoken to its director of nursing, who oversees safety.
The SHA then contacted the hospital's chief executive, Paula Clark, to ensure the concerns were investigated.
"The trust reported this as a serious untoward incident to us and in follow up we were satisfied with the actions that the trust took to manage this incident," it said.
ESBL Enterobacter causes urinary tract and other infections including pneumonia and can prove serious, particularly in intensive care units.
The superbug is resistant to penicillin and other classes of antibiotics - but fortunately in this case, it was susceptible to an antibiotic regime.
Dudley Hospitals said they were part of a West Midlands region wide team looking at preparing further guidance.