West Midlands policeman tweeted through riots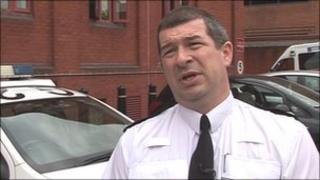 A tweeting policeman says social media is a force for good which the police should embrace in the wake of the summer riots.
Supt Mark Payne, from West Midlands Police, is in charge of the Wolverhampton area.
He joined Twitter four years ago and has more than 7,000 followers.
During the riots he countered an "avalanche" of rumours by tweeting from his smart phone as he patrolled the streets or sat in the control centre.
He said the police should not seek to ban or repress social media sites but instead view them as something they can learn from and use.
He believed it was important to stem rumours and lies posted online while the riots were ongoing.
He said: "Things which people see and say which are not true can just get passed around and it quickly becomes established as fact and that can often be a cause for huge disturbance.
"It's important when you've got the facts in front of you that you are able to let people know what's going on really quickly and obviously social media provides an easy way of doing it."
As the riots spread from London to Birmingham violence and crime also broke out in Wolverhampton city centre.
Mr Payne said at the same time rumours circulated that Bentley Bridge Retail shopping centre, in the city, was being looted and had been set on fire.
He said he used his presence online to try to let people know the rumours were false.
Someone else who tried to let people know what was really going on was social media blogger Stephenie Jennings.
She used her website WV11.co.uk and Facebook page to put the record straight and retweeted Mr Payne's tweets.
She said: "It was almost like an avalanche.
"People were saying that there were plans to set fire to Bentley Bridge (they said) 'this is what's going to happen' 'this is what's happening' so we felt it really necessary that we set up this Facebook page to make sure that people got the truth."
At the same time, West Midlands Police had their own website attacked by hackers who failed to bring it down.
The force was also "inundated" with intelligence which it sometimes used to deploy resources but Mr Payne said officers found it extremely difficult to weed out the good intelligence from the lies.
Some senior police officers in London have revealed that it was an option to ask the authorities to shut down social media sites.
But Mr Payne said social media is a phenomenon which has to be used not controlled or banned.
He said if social networks were turned off it would cause more harm than good.
"Because social media was on we were able to monitor and use the information to good effect," he added.