MP John Hemming's wife in kitten theft trial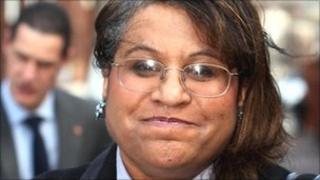 CCTV cameras show the wife of Birmingham MP John Hemming sneaking into the home of her husband's mistress, a court has heard.
Christine Hemming, 53, whose husband is the Yardley Liberal Democrat MP, denies burgling the home of Emily Cox and stealing a kitten.
Mrs Hemming, from Moseley, Birmingham, is alleged to have committed the offence on 29 September last year.
Birmingham Crown Court heard she was in a "love triangle" at the time.
Opening the case, prosecutor Jason Pegg said Mrs Hemming spent three minutes inside Miss Cox's home before emerging with the kitten under her arm.
He said Mr Hemming divided his time between his marital home and the nearby home of Miss Cox.
"This is, for want of a better word, a love triangle - a love triangle that both women are fully aware of," Mr Pegg said.
He added: "This case is all about the defendant going to Emily Cox's home one evening in September of last year before entering that home and stealing a kitten known as Beauty.
"At that house there are CCTV cameras, which have been installed around the house, giving coverage of the gardens."
Miss Cox had been at a meeting, he said, and returned home to find one of her two cats missing.
She searched the local area and, in the first week of October, viewed CCTV footage.
He added Beauty has not been seen since the disappearance.
He said Mrs Hemming had sneaked around the back garden, opened the back door, gone into the house and remained there for three minutes.
"She then left the house through the same door which she had entered but, when she left the house, under her left arm was Beauty the kitten," he said.
The case continues.