Twitter speech in US for West Midlands police officer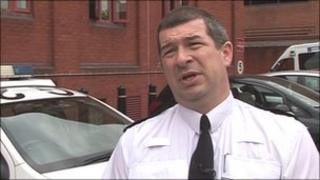 A tweeting West Midlands police officer is sharing the force's experience of using social media at a police conference in the US.
The force said Supt Mark Payne was a "keynote speaker" at the Social Media in Law Enforcement event in Dallas.
He will talk about how the force uses Twitter and Facebook to provide up-to-date information during public order operations.
Supt Payne has more than 7,000 followers on Twitter.
He said: "Communicating with the public through social media is something that I have been involved in developing with West Midlands Police for some time now and I am really proud to be able to share some of our successes with forces from around the world."
The officer, who joined Twitter four years ago, said it would also give him the chance to find out how other forces used social media to their advantage.
"I hope that I will be able to bring some of those lessons back to the UK to help develop our own social networks," he added.
West Midlands Police said the cost of the visit was being paid for by the conference organisers.