Warning over fake Arctic Ice vodka in Birmingham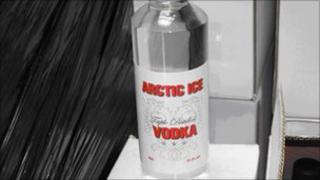 Customs officers have warned people in the Birmingham area not to buy bottles of fake vodka.
Three men were arrested in the city in July on suspicion of illegally manufacturing the alcohol.
About 12,000 litres of counterfeit vodka branded as Arctic Ice was seized by HM Revenue and Customs (HMRC).
A joint investigation with Birmingham City Council has found some bottles have already been sold through independent retailers.
Analysis of the alcohol has shown the bottles contain a dangerous level of methanol, more commonly used in antifreeze, solvents and cleaning fluids.
Birmingham environmental health officers said they were already aware of two people suffering illness after drinking the fake vodka.
Councillor Neil Eustace, chair of the Public Protection Committee, said: "Alcoholic products being sold literally from the back of van to retailers, or under the counter or unmarked to consumers, may seem like a good deal.
"But in truth the true cost to anyone who consumes the product could be terrible."
HMRC officers urged local traders and members of the public to contact them if they saw the product on sale.