The Public in West Bromwich secures lottery funding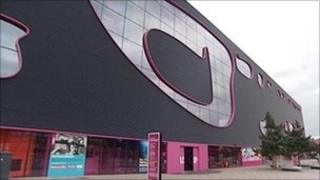 A controversial Midlands arts centre has secured a £100,000 lottery grant from Arts Council England.
The Public, in West Bromwich, said the money would be used to support its digital and interactive arts programme.
It said local and regional artists would be featured, alongside more established names.
The gallery, which has had more than 330,000 visitors in the past two years, was heavily criticised for opening two years late and £15m over budget.
The centre, which costs about £1.2m a year to run, has recently been forced to cut jobs.
Managing director Linda Saunders said the funding would be used to deliver exhibitions "designed to appeal to The Public's growing local and family audience".
She added that the gallery was looking forward to using "the arts to contribute to the exciting regeneration plans already in place for West Bromwich".
Grants for the Arts awards are funded by the National Lottery and managed by the Arts Council.