England batsman Ian Bell backs sport Unsung Hero award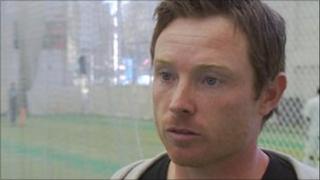 England cricketer Ian Bell has given his backing to a BBC award that recognises people who dedicate their life to sport in their community.
The Warwickshire player is an ambassador for the corporation's Unsung Hero initiative.
Talking about the award, Mr Bell paid tribute to his own "hero", the late Neal Abberley who was his coach and mentor since he was a boy.
He said Mr Abberley, who died in August aged 67, was "incredibly special".
"Neal Abberley had a massive impact on my career and my life really," Mr Bell said.
After scoring a double century against India at the Oval this summer, the batsman dedicated his innings to Mr Abberley.
He said: "If it wasn't for him, then I wouldn't have achieved half the things that I've managed to achieve in my sport.
"I feel very lucky for a start to have worked very closely with him, knew him as a friend and as a mentor and coach."
Nominations are open for the BBC Sports Unsung Hero 2011 award.
Fifteen winners from around the UK will go forward with a chance of being named overall winner at the BBC Sports Personality of the Year event in December.