West Midlands Ambulance Service to honour riot staff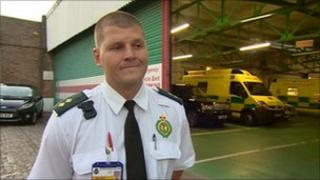 West Midlands Ambulance Service has honoured staff who were on duty during the August riots.
Ambulance workers treated several people during the disturbances, which happened over three nights in parts of Birmingham and the Black Country.
The reception will took place at the council house in Birmingham.
Frontline crews, support staff and control room operatives were be welcomed by the Lord Mayor, Councillor Anita Ward.
Chief ambulance officer Anthony Marsh, said: "The rioting was seen by millions of people across the world and had a profound effect on many of the people who witnessed the events unfold.
"This awards ceremony will give the trust a chance to mark the bravery and dedication of our staff, whilst taking time to remember the three men who so tragically lost their lives."
'Deathly silence'
Haroon Jahan, Shazad Ali and Abdul Musavir, from the Winson Green area of Birmingham, were hit by a car while trying to protect their shops and homes from looters.
Incident support officer James Williams was one of the staff being honoured.
He said the cordon put around the city centre during the riots created an eerie feeling.
"As you drove round some areas of Birmingham there was just nobody there at all. It was like a deathly silence, really."
Mr Williams said the ambulance crews' training was invaluable during the three nights of rioting, and he felt the situation was well controlled.
"We thought there was a potential for problems and obviously lots of risks involved, but it all came out in the end fairly well."