West Midlands detective fears crime will 'rise'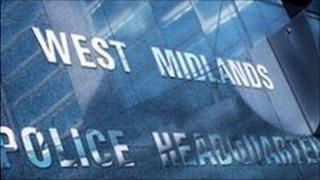 A West Midlands detective said he fears a rise in crime because of cuts to police budgets.
He spoke as an internal West Midlands Police staff survey revealed more than half of a group of officers who took part said they did not have the right equipment needed to do their job.
West Midlands Police needs to save £126m over four years.
This has led to the announcement of a reduction of 390 posts made up of 173 police officers and 217 police staff.
The detective, who asked for his identity to be protected, spoke to the BBC about his concerns.
He said: "I know that with a smaller amount of police officers there are going to be people who will take advantage of it. I can only foresee that crime will rise."
'Morale low'
The internal survey was completed by more than a third of the force's workforce in June and July of this year.
Findings also revealed the 69% of staff did not agree that morale was high.
The detective added: "Morale is very low, everybody feels that they are working harder. I don't think they feel as though they are being recognised for the amount of work they've been doing."
He said that during the recent riots, officers were on duty for up to 20 hours a day.
"You want to do the job but to have the politicians turn round and say the police were inflexible...that had a massive impact on the officers."
'High satisfaction'
Force Deputy Chief Constable Dave Thompson said he did not believe crime would rise.
He said: "Already this year, there's 10,000 fewer victims of crime in the West Midlands, crime is down."
On morale, Mr Thompson said: "There are some things [in the survey] that show really high satisfaction staff have with the job and the real sense of pride they feel in serving the public.
"But there are some things in the survey that identify where staff have concerns."