Tariq Jahan charge: Father of riot death victim accused of attack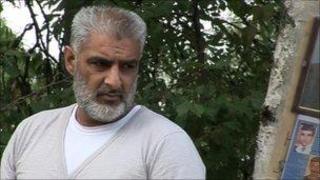 A man who appealed for calm after his son was killed during the August riots has been charged with assault.
Tariq Jahan, 47, is accused of breaking a man's jaw and knocking out two of his teeth in an alleged road rage incident.
Mr Jahan made a heartfelt plea to the public not to retaliate after his son Haroon and two friends died when they were hit by a car during riots.
A Crown Prosecution Service spokesman confirmed Mr Jahan had been charged with assaulting a man on 6 July.
He said: "He has been charged with GBH without intent and will appear before magistrates in Birmingham on Monday."
Revenge attacks
Haroon, 21, and brothers Shazad Ali, 30, and Abdul Musavir, 31, died in the early hours of 10 August when they were struck by a car in the Winson Green area of Birmingham.
They were trying to protect homes and businesses in the area from looters.
It was feared that revenge attacks following their deaths would spark a wave of violence.
Mr Jahan received a Pride of Britain special recognition award this week for the compassion, dignity and calm he showed in the aftermath of his son's death.