Birmingham social work academy opens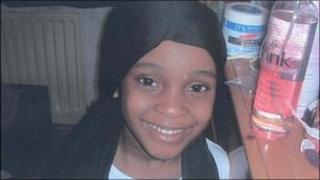 An academy has opened in Birmingham to help improve children's social care in the city, partly in response to criticisms over Khyra Ishaq's death.
A report found social workers should have done more to prevent the seven-year-old from Handsworth being starved by her mother and stepfather in 2008.
The council received a government improvement notice in 2009 and said it had recruitment and retention issues.
It said the Social Work Academy should help resolve some of those issues.
The academy is based at The University of Birmingham and is being run as a partnership between the University's school of social policy and the city council.
'Attract the best'
It will cater for experienced practitioners and managers as well as students and newly qualified social workers.
Councillor Matt Bennett, executive member for children's social care, said: "Yes, there were failings in the Khyra Ishaq case and we've had some serious issues with recruitment and staff retention in the past, that is why we are on a government improvement notice but this partnership is really exciting.
"It is about continuing social work development and raising the standard of expertise in the city, so that hopefully we can attract some of the best people too.
"This isn't a case of 'they're not doing well enough let's send them all back to school', not at all.
"There are some really good social workers in Birmingham, although you might not think it from what you see in the media and we want to build on that."
'Longstanding partnership'
The development of the academy is in line with national social work recommendations in light of the Munro review into child protection.
"Unlike other academies, this is not just aimed at newly qualified social workers.
"We want all social care staff in the city to be members of the academy and to keep learning and developing professionally," he added.
Professor David Stephenson, head of the university's school of social policy, said: "Birmingham City Council has always had a significant influence on our programmes and we have had longstanding partnership arrangements with Birmingham social services over many years."
He said the academy was the logical next step for the university to develop links between the council's directorate for children, young people and families directorate after entering into a partnership with the adult and communities partnership in 2010.
In 2010 the government ordered professor Eileen Munro to review child protection and social work in England in the wake of several high profile abuse cases including the death of Baby Peter in 2007.
The Munro review made 15 recommendations that included reforms to the way social work training and placements are carried out.
It said higher education institutions and employers should do more to prepare social workers for the challenges of working in child protection.