Protest against Dudley council care home closures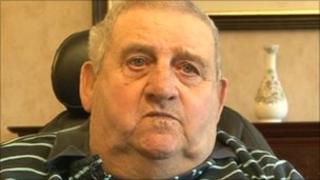 Hundreds of campaigners have protested against proposals to shut four care homes in the West Midlands.
Residents of Dudley Council-run homes, including New Bradley Hall in Kingswinford, are unhappy they could be forced to move elsewhere.
About 200 concerned relatives demonstrated outside Dudley Council House where the proposals for the closures were being discussed.
Councillor Les Jones said it was "not a money-saving exercise".
He said: "This started four years ago as a programme to make a better level of care for all of our elderly population as the numbers grow into the future."
'Absolutely devastating'
The other three care homes affected by the proposals are New Bridge House in Coseley, New Swinford Hall in Stourbridge and Russells Court in Dudley.
About 30 residents will be affected at New Bradley Hall, including May Walker, who is one of three over the age of 100.
Ms Walker said: "It's ridiculous, we're all comfortable here. They must be mad disturbing old people."
Another resident, Harry Griffiths, said they were determined to stay put.
"We're going to stop here as long as we can and they'll have to bring the bulldozers in. I don't think they'll be able to move us either," Mr Griffiths said.
Poppy Scott, whose 94-year-old mother Irene Claridge also lives at New Bradley Hall, said: "A move would be absolutely devastating for them physically and mentally.
"They're such good friends and there's nowhere better for our loved ones to live."