Birmingham taxi drivers hand in petition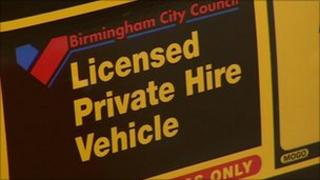 Private hire taxi drivers have handed in a petition to Birmingham City Council calling for changes over licensing fees, timings of spot-checks and car signage.
Some drivers said they wanted a meeting with councillors after the fee for taxis rose by 8% for 2011-12.
Drivers also want to be allowed to use magnetic signs on their cars rather than stick-on ones.
The council said fees had been kept low for the past five years.
Spokesperson for the drivers Tanveer Choudhry said he appreciated the fee increase was "not a great deal" but said that it was another contributing factor to rising costs, along with fuel prices and insurance costs.
Mr Choudhry said another issue for the drivers was the timing of spot-checks when their cars and badges were checked over.
'A compromise'
He said they had no problem with the "important" checks being carried out, but said they could take too long especially during busy times.
Birmingham City Council said the licensing fee had gone up by 8% in April but pointed out that in the five previous years, it had either gone up by below the rate of inflation or had been frozen.
Talking about the signage, the council said: "The decision to require semi-permanent liveries was a regulation agreed with the taxi associations several years ago as a compromise rather than full vehicle livery/uniform colourings."
As for spot-checks, the council said they should take "no more than 15 minutes."
Chris Neville, city council head of licensing, said he made "no apologies" for the fact that spot checks were carried out at weekends when drivers were busy.
"That's when we get the truest reflection of compliance rates of drivers," he added.