Bilston fire: Bid to rescue polluted canal fish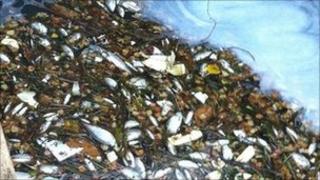 Rescue efforts are taking place to save the remaining fish in a polluted canal in the West Midlands.
About 10,000 fish have died as a result of water contamination after a fire in Wolverhampton. Work is under way to rehome the remaining fish.
The fire last month hit five separate firms in Millfields Road in Bilston.
The Environment Agency and British Waterways have been working to remedy the problem in the nearby Birmingham canal and Wyrley and Essington canal.
The leaked chemicals from the businesses at the industrial site have caused the oxygen levels in the water to drop rapidly which has suffocated the fish.
'Real tragedy'
Laurence Hogg, from Birmingham canal network watchdog Canalscape BCN, said: "The Wyrley and Essington canal has become a bit of a gem because of the fish stock and the wildlife that abounds on it.
"This particular pollution spill is a real tragedy."
He said the work the Environment Agency was doing to save the fish should have started sooner.
"When the real problem arose a few days after the spill, when the toxicity became more apparent with fish stock dying, I don't think they acted quickly enough at all," he said.
But David Lowe, spokesman for the Environment Agency, said: "I think that we've certainly geared up at the moment and our focus right now is on all hands to the pump, working as long hours as health and safety will allow us to remedy the position.
"We've got teams of workers out here working from across the Midlands."
The agencies are now considering channelling away the polluted water to a specialist treatment centre.
Rescued fish will be transferred to cleaner waterways.
Workers are also trying to increase the oxygen levels in the water by pumping hydrogen peroxide into the canal.