Hospital charity profits from News of the World final edition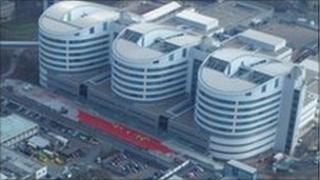 A Birmingham charity has received almost a million pounds from the profits of the final edition of the News of the World.
News International chose the Queen Elizabeth Hospital Charity to benefit from a share of the money raised.
The money will go towards a home for forces families visiting injured armed service personnel.
The chief executive of the hospital Mike Hammond said the money was an "amazing" total.
'Drop everything'
He said they had initially been told they would receive £300,000 but the figure had since increased to £933,333.
"It was an amazing total and one that will make a big difference," he said.
He added: "We're just about to start building a forces and families centre at the Queen Elizabeth Hospital site - an 18-bedroom house, in effect, for families.
"When you first hear that your son or daughter or your husband or wife is injured the last thing you think about is 'Where am I going to stay?' You just want to drop everything and get to Birmingham as soon as possible."
Children's charity Barnardo's and the Forces Children's Trust, which helps the children of dead or wounded members of the armed forces, also each received £933,333.