Pype Hayes Bonfire Night event to drop bonfire due to cuts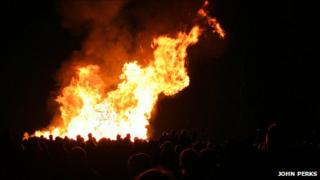 The only council-run Bonfire Night event in Birmingham will be held without a bonfire this year to save money, the council has said.
Birmingham City Council said it cost £30,000 to hold the bonfire in the city's Pype Hayes Park.
It said there would still be a firework display and fun fair on Guy Fawkes Night but there would be no bonfire.
Historian Carl Chinn said the origins of the council-run bonfire event was to help increase public safety.
The University of Birmingham professor of community history and BBC WM presenter said: "In the 1950s and 1960s the council made a big push to put on organised bonfires to reduce private bonfires as part of a safety campaign. Pype Hayes is the result of that.
'Absolutely ridiculous'
"Bonfire Night is exactly what it says on the box, you can't have bonfire night without a bonfire," he added.
About 30,000 people attend the annual bonfire and fireworks display in the park, which is free.
West Midlands Fire Service said from a safety perspective, where possible, it encouraged people to attend officially-run public displays.
City councillor Lynda Clinton, Labour Tyburn ward, said: "We still need road closures, still need park and ride, still need policing.
"If the city still needs to pay for the event, we might as well have the bonfire."
First Wordsley scout leader Gary Brant said: "This is absolutely ridiculous. The kids will never understand why there is no bonfire at a bonfire display night.
Free event
"When we put on our own event we build the bonfire on the day that way we can check what is in it as we go along. You don't need to X-ray it or anything."
The Conservative and Liberal Democrat-run city council said the fireworks posed a greater safety issue than the bonfire and was the reason it was still providing a public fireworks display.
In a statement the city council said: "The firework spectacular and funfair will go-ahead this year and this continues to be a major free event in our calendar.
"The display has been safeguarded against the backdrop of a £212m savings target and as a consequence there will be no bonfire this year.
"But we are confident the Pype Hayes event will once again be a big success attracting families from across the city."