Birmingham City Council could axe a further 1,200 jobs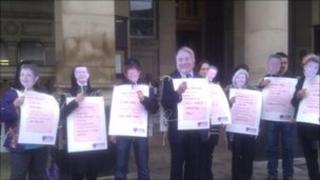 A consultation has begun on Birmingham City Council's 2012-13 budget which could see up to 1,200 jobs cut.
It comes as the authority tries to make savings of £65m as its contribution to reducing the national deficit.
Chief executive Stephen Hughes said the job cuts, which would come into effect in 2012-13, would be in addition to the 2,450 jobs cut in 2011-12.
But he added they were not guaranteed if the public could suggest other ways for the authority to save money.
The authority, which is run by a Conservative and Liberal Democrat coalition, has proposed cutting jobs across departments including Adults and Communities and Children, Young People and Families.
'Rightful say'
Other proposals include generating income by setting up a Birmingham lottery scheme and transferring some services to voluntary and private firms.
Councillor Randal Brew, cabinet member for finance, said the council was "moving mountains" to protect front line service.
He said: "The budget the council sets involves spending £3.5bn of money supplied to the city by taxpayers - as a result, the council is keen to ensure that the public has its rightful say on how this is done.
"Absolutely no final decisions have been taken yet - now is the opportunity for citizens to make their views known on what is proposed by elected members before our final budget is set next year."
'Absolutely critical'
But Graeme Horn, joint branch secretary for Unison in Birmingham, said the council had not considered the wider impact of the cuts.
He said: "We have a choice, it should be standing up to government and saying 'local government services are absolutely critical to people in Birmingham and to the economy of Birmingham'.
"Taking £65m of spending out of the economy of Birmingham, that will hit the private sector as well as our public sector members.
"If we have 1,200 other people losing their jobs, becoming unemployed, that's more benefits we'll have to pay for those people."
As part of the consultation a series of public meetings will be held around the city and residents will also be able to submit their views online.
The public consultation will close on 8 January 2012 with the proposed budget due to be submitted to cabinet on 13 February before it is put before the full council for ratification on 28 February.