Sparkbrook restaurant fire and explosion sees three saved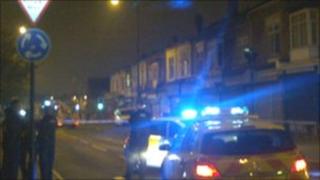 Three people had to be rescued as a fire and gas explosion tore through a restaurant in Birmingham.
Another 30 people had to be evacuated from buildings after the fire broke out at about 04:50 BST in Stoney Lane, Sparkbrook.
Up to 40% of the building was damaged by the fire. A gas cylinder exploded and another one was leaking gas.
An elderly man is thought to have been taken to hospital and three people were rescued by crews with a ladder.
West Midlands Fire Service said it had received unconfirmed reports that before fire crews arrived an elderly man with asthma had been taken to hospital suffering from the effects of breathing in smoke.
No-one else was hurt.
People were evacuated from buildings in Stoney Lane and nearby Trenville Avenue and Fulham Road.
The kitchen fire was put out by 06:30 BST and the cause is being investigated.
Roads in the area re-opened a few minutes later and residents have been allowed back into their properties.