Wolverhampton jeweller looks to the future after riots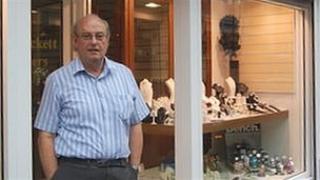 "It took minutes to trash my shop, it took us eight weeks to put it back together".
Wolverhampton jeweller Eric Beckett said he had felt "numb" when he first saw how his shop had been damaged in the August riots.
He said it was "wrecked" after trouble broke out in the city on 8 August.
Determined to carry on trading, Mr Beckett started the clean-up the next day and has remained open throughout a refit.
Just over nine weeks on, the mayor of Wolverhampton has officially reopened the shop on Queen street.
Mr Beckett opened E.V. Beckett about 25 years ago and before that had run a jewellery workshop above the premises.
'Sea of glass'
He said they had shut up the shop at about 15:00 BST on the afternoon of 8 August because the "atmosphere wasn't nice".
At about 17:00 BST, he said he had got a call from the alarm company but was stopped from going to the shop by police.
It was later that evening that Mr Beckett first got to see the extent of the damage to his shop.
"Everything was smashed, the counters were smashed, just a sea of glass and bits of everything," he said.
Mr Beckett said stock had been taken and there had been about £30,000 worth of damage.
The 70-year-old said he had felt "numb" at first but then set about "getting it back together".
"We said 'OK, it's happened', I phoned the insurance people, [who said] just get on with what you need to do, you're insured," Mr Beckett said.
Show of support
With the shop boarded up, Mr Beckett said they had been in the next morning and started to sort things out.
"Although we had the boards up, we kept on trading... what could we do, we had to clean up, we still had customers wanting their repairs doing."
Mr Beckett, who moved to Wolverhampton from Malta in 1962, said they had had a lot of support from people over the past couple of months.
He said they had been given flowers and chocolates and people had even tried to give them money despite him reassuring them that they were insured.
"We saw the worst [during the disorder] and the next few days we saw the good that happened after that," he added.
Mr Beckett said the Mayor of Wolverhampton Bert Turner had visited the shop the day after the trouble and been asked if he would officially reopen the shop after its refit.
Looking forward, Mr Beckett said: "We'll start again, it's a new era.
"Even if I retire in a couple of months or couple of years, I'm going to start again and that's what we're doing.
"Let's get on with it and see how many more years we can do."