Sandwell hospital trust's pledge after CQC inspection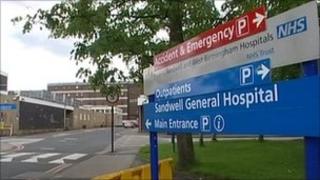 The chief executive of a trust running a West Midlands hospital says it is doing "absolutely everything" it can to improve standards after a critical report by the Care Quality Commission (CQC).
Sandwell General Hospital in West Bromwich was identified as having major concerns during initial inspections, the CQC said.
It added that inspectors later found standards around meeting people's nutritional needs had improved, but people's dignity was not always respected and a ward had closed.
Sandwell and West Birmingham Hospitals NHS Trust chief executive John Adler said the CQC's report had reduced concerns over nutrition from major to minor.
He added: "In March they issued a report saying they had major concerns about nutrition, the way in which we cared for the feeding of patients and so on.
"I absolutely don't deny that we need to improve still further, but the major concerns area, which is the thing they highlight in their national report, has been changed to minor."
Too many hospitals in England were falling short in the most basic care given to elderly patients, inspectors said.
'Patients spoke highly'
The CQC carried out unannounced visits at 100 hospitals to assess dignity and nutrition standards and identified concerns in 55 cases.
It said patients spoke highly of the care they received in the emergency assessment unit at Sandwell General.
But the CQC said that on the Newton 4 ward, inspectors observed incidents including a person who had been incontinent remaining unwashed for an hour-and-a-half, despite asking staff for help.
Continuing concerns about care on Newton 4 were raised with the trust after this inspection, it added.
The CQC said in response the trust had closed the ward and replaced it with two separate units for stroke rehabilitation and acute stroke, described as the acute phase of a person's illness by the trust.
General medical admissions to the ward also ended, the CQC said, adding it had not taken immediate enforcement action, but inspectors would make another unannounced visit.
The trust chief executive said: "We had concerns about Newton 4 for quite a long time and we were very public about those concerns.
"For a while we tried to continue with that mix of patients [acute stroke and longer-term rehabilitation]."
But he said it concluded with that mix, the trust could not "fix the problem reliably" and thought the new units would make it much easier for staff to cope with patients' needs.
The chief executive added: "The report also said there is a lot of good care going on at Sandwell and the other hospitals in the trust.
"But it's not consistent enough, so what I can promise is we will do everything possible to make that care more consistent."
Mr Alder said that he thought nursing staff were in a "difficult position".
"On the one hand they're being told 'we must have completely comprehensive records'," he added.
"But they all take time and if nurses are doing that, they're not sitting by the bedside talking to patients necessarily."