Birmingham transport museum 'could reappear' after closure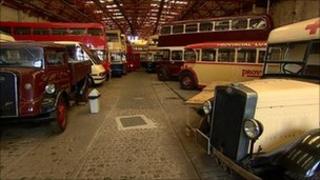 A transport museum in Birmingham could reappear elsewhere after its closure, its financial director said.
Aston Manor Road Transport Museum will be open for five more days before shutting following the failure to buy its premises from the city council.
The council has said the closure was sad but trustees had not come up with a sustainable long-term business plan.
Richard Gray, at the museum, said it was in talks with a firm and it was possible "we could.. be resurrected".
The museum had an open day on Sunday and has planned to open for two more weekends and on 26 October during the half-term holiday.
Asked about what hope there was of a new museum opening in the West Midlands, the financial director said: "We are in discussions with a company about the possibility of relocating everything direct to them.
"Whether that's going to happen will be down to the deal that will suit either party as far as that goes.
"But there is certainly a possibility that we could literally be resurrected, reappear somewhere else not too many miles away from here.
"[However], at this moment in time it's too early to give a definite positive answer on that one."