'Neglected' mare and foal seized from Bilston open land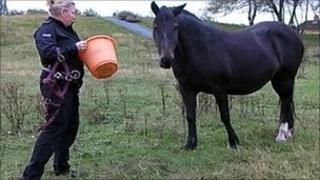 A mare and her foal have been seized by police in Birmingham under the Animal Welfare Act.
The animals were removed from open land off Batmans Hill Road, Bilston on 12 October and the RSPCA has appealed for help tracing their owner.
The charity said the mare was in pain with overgrown hooves and laminitis.
RSPCA officer Jackie Hickman said: "This is a sad case of an owner not taking responsibility for their animal."
According to the RSPCA, the open land in Bilston is commonly used to tether horses although the mare, known as Milly, was from a group of horses which roamed freely.
Despite monitoring the animal for a number of days and making extensive enquiries, the RSPCA said it was still trying to make contact with the mare's owner.
Insp Hickman said: "It has taken many months for her to get into this condition.
"Somebody must know who owns Milly and I would urge them to please contact me."
"Reasonable steps should have been taken a long time ago to prevent Milly's obvious pain," Insp Hickman added.