Small Heath boxing club has more members after BBC award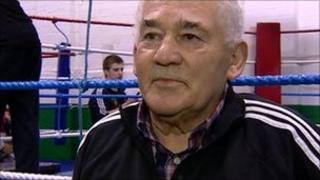 An amateur boxing coach from Birmingham has seen membership of his club almost double since winning last year's Midlands Sports Unsung Hero award.
Seventy-five-year old Pat Benson, secretary of Small Heath Amateur Boxing Club, has coached boxers for more than 40 years.
He now has an academy named after him which aims to work with schools in the Birmingham area.
Mr Benson, who has trained more than 45 future professionals, remembers being "stunned" when he was announced as the Midlands winner of the annual award in 2010.
"It was a big surprise to be nominated, more of a surprise when I won it," he said.
"It was good for boxing and good for the club, so many things have happened for us since, it's made a big difference for us here," he added.
Since then, membership of the Digbeth-based club has increased from about 120 to more than 200, it got a sponsor and the academy has been set up in his name.
Mr Benson said: "It's hard work, but it's worth it when you have a successful club which we have."
He said he was "pleased for the kids, they put so much into it".
The Sports Unsung Hero award recognises people who dedicate their life to sport in their community.
Fifteen winners from around the UK will go forward with a chance of being named overall winner at the BBC Sports Personality of the Year event in December.