Birmingham refuse workers vote for industrial action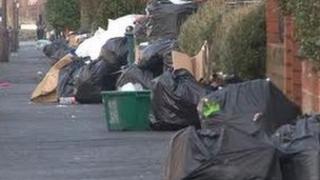 Refuse workers in Birmingham have voted to take industrial action over plans to change their pay and conditions.
Unite said the decision to hold the ballot was taken after the city council imposed the new conditions without reaching an agreement with the union.
No date has yet been set. Unite official Steve Foster said he hoped discussions would avert the action.
The council said every effort would be made to make sure contingencies were in place if the action took place.
Mr Foster said the new conditions for the bin staff would have "some drastic effects potentially on pay and also job losses".
He said the majority of the 250 to 300 members of the workforce involved were Unite members and added the action would be taken in the next 28 days.
Members of the GMB union have also been balloted. The result of that is not yet known.
A spokesperson for Birmingham City Council said news of industrial action was always "regrettable".
They said the council would ensure contingencies were in place, "as it has done in the past on at least two occasions, as recently as this summer when action relating to a wider range of service areas was staged.
"It must also be remembered that industrial action can take many forms and does not necessarily mean employees would be walking out on strike."