Birmingham gets ready for winter weather on the roads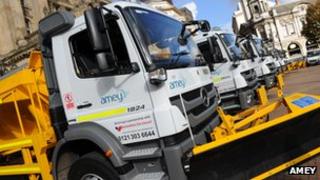 New vehicles and technology means Birmingham is "better prepared than ever" to deal with winter weather, according to the city council.
It will be able to electronically record when, where and how much grit is being put on the roads.
Working with highways contractor Amey, the council's gritting routes cover 745 miles (1,200km), almost half of the city's roads.
Vehicles are on standby around the clock through until May.
The council said the gritting routes had been "further refined" this winter so that the gritters could cover the network in less time than before.
It takes between three and four hours to grit the whole of the priority network in the city.
Councillor Timothy Huxtable, cabinet member for transport, environment and regeneration, said: "With even more advanced vehicles and intelligence about how to use our more than adequate salt supplies, we will once again be doing all we can to support residents and businesses over the winter months."
Amey said in an average winter, gritters were called out between 40 and 50 times, but last winter that figure rose to 66 between October and March.
It said it was fully stocked with 8,700 tonnes of salt ready to grit the city's roads.
Mike Notman, project director at Amey, said Birmingham had "never been better prepared for winter than it is now".