Jericho Centre benefits from Children in Need grant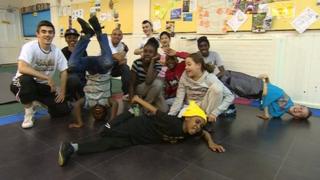 A youth centre in Birmingham is beginning to expand its activities again thanks to a grant from Children in Need (CiN).
In recent years the Jericho Centre in Balsall Heath has seen its services reduce in number and currently only operates a youth project for 10-18 year olds from its base at the Edward Road Baptist Church.
With no permanent members of staff, the Christian organisation relies solely on volunteers and was awarded the CiN grant of £17,655 in August 2010 which was split over a three-year period.
Volunteer numbers are growing and the youth project, comprised of a youth club and a break dancing class, will be launching a taekwondo class soon according to co-ordinator Mike Peart.
He admits the aim of the project is to keep children "off the streets" in a bid to avoid "low-level drug dealing" and "try and help them make better choices with their life and also learn new skills".
"Without the funding it would be hard to do it in such a professional manner. It's a wonderful lifeline to the young people in this area," Mr Peart said.
"I think it all comes down to making good choices. With projects like this it gives us the chance to put wiser heads together with younger people to discuss and build relationships and go through choices and give them critical thinking skills and life skills. Young people will make better decisions if they can."
Opening doors
The centre was originally part of the Jericho Community Project which was born out of a response to prostitution in the area in the 1980s. In 2007 the project was split into two organisations with the Jericho Foundation becoming the other half.
Up to 20 volunteers are involved with the Jericho Centre including 18-year-old Luke Boulton who uses the services and has gone from a self-confessed "brat" to mentor.
"Coming through the youth club has helped me become a Christian and better person," he said.
"Without coming to the church or to the youth club I wouldn't really have anything to do and through the church I've been able to do break dancing.
"When I first started coming there was a cooking lesson. I do cooking in college so that's what motivated me to do it."
Asked what his life would be like now without having gone to the Jericho Centre, Mr Boulton replied: "I wouldn't be a bad person but I wouldn't know where I am in my life or where to go and what road to go down or what door to open.
"The consequences of not giving anything for the younger people could lead to a life of drugs and being criminals.
"If you play by the rules you don't get exactly what you want but you don't get into trouble."
Learning skills
Steve Blower is the youth pastor at the Jericho Centre and he agrees the organisation offers children from Balsall Heath a great opportunity to avoid unwanted distractions.
The 25-year-old, who runs the break dancing classes, said: "Before we ran the classes it was difficult because the frustrations that exist within the young people often come out in ways that are uncontrolled.
"When they have something that is a really physical discipline they're able to vent these things out and it becomes a much more positive energy that they're able to focus on something creative.
"Without Children in Need the facilities here wouldn't be available. We wouldn't have the mats and all of that sort of equipment.
"I think with any discipline, sport or activity you learn skills that you can apply to life.
"They learn self confidence to dance. They learn group skills when they do routines. They learn how to channel their frustrations and energy through something creative.
"It's a fantastic medium to help the young people socially engage."
Other projects
The Jericho Centre is not the only organisation in Birmingham and the Black Country to benefit from a CiN grant. Others include:
Chatback - a Dudley-based group for fostered children was awarded a one year grant of £22,266 in May 2011 to help it make a film to challenge the stigma of being in foster care.
YMCA Sutton Coldfield was awarded a three-year grant to fund the salary costs for an existing project manager and two new part-time youth workers.
Longbridge Childcare Strategy Group was awarded a three-year grant in May to contribute towards the cost of two inclusion workers.
BBC Local Radio is hosting 22 special screenings of Grease in aid of Children in Need, at Cineworld cinemas across England on Tuesday 15 November. Tickets are £6, with £5 going to Children in Need. More details here.
Children in Need day is Friday 18 November.